Improving people performance using the

DISC Behavioural Profiling System in

Ballarat, Geelong and Melbourne
Do you wish some people came with a manual?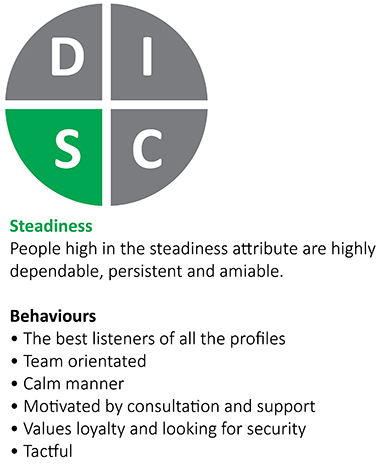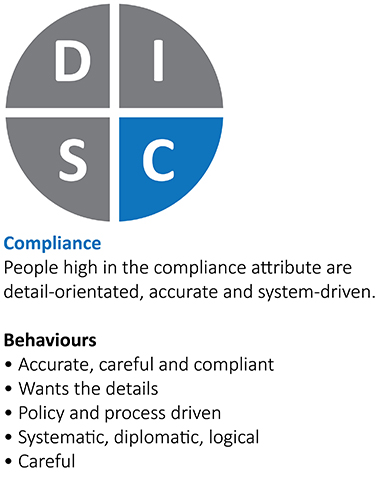 A behavioural profiling system such as DISC works well as it determines if the person is the right fit for the job and identifies any training needs. Unlike your personality, you can adapt your behaviour to your job and the environment you work in.
Also DISC Profiling helps you and your team improve work productivity, teamwork and communication.
DISC Profiling is the only Australian version of DISC on the market aimed at improving people performance.
Change the way you look at people with "DISCover Yourself", which is one of the most effective and powerful behavioural profiling systems available.
Organisational Culture – getting to the heart.
How you respond to conflict, what motivates you, what causes you stress, and how you solve problems.
Improve working relationships by recognising the communication needs of team members.
Facilitate better teamwork and teach productive conflict skills.
Develop stronger sales skills by identifying and responding to customer styles.
Manage more effectively by understanding the dispositions and priorities of employees and team members.
Team Culture
Workplace culture drives your success in business. Poor culture leads to high staff turnover, disengaged and unmotivated employees which in turn impacts quality of service, poor productivity and engagement, poor output and ultimately poor business performance. Poor culture is costly and can directly impact the bottom line. Some businesses do culture well and some never get the importance or impact of what a great culture is. There are many things that impact culture and in our experience culture is something an organisation constantly needs to work at and get right. A great team requires a great leader. Great people Better results.
DISC in Sales Workshops
• Understanding a basic DISC model of behaviour to be able to appreciate one's own behavioural style.
• Identifying the DISC style of customers – the Remote Profile.
• Recognising and Managing DISC characteristics in the workplace.
• Keys to persuading a high DISC if you are a high DISC.
• How to achieve ongoing sales success.
• Solve your sales issues.
• Address customer service challenges.
• Understand your selling environment.
Understand Your DISC Sales Style, providing insights into your salesperson's own priorities. Self-knowledge is the first step to building better relationships. Equally important is understanding your partner(s) in a transaction or negotiation. The second part of the profile is Recognise and Understand Customer Buying Styles. Good communication is about give and take. Learn how to Adapt Your Sales Style to Your Customer's Buying Style. It's not about changing who you are when you're selling, it's about meeting the often unspoken needs of your customer.
Team Building in DISC Workshops
• The four competencies of Emotional Intelligence.
• Why DISC in team building.
• The Johari Window.
• Recognising & managing DISC characteristics in the workplace.
• Matching people with jobs.
• Strategies for blending and capitalising behaviour.
Contact us to learn how these valuable tools can improve
your workplace in the following industries.
Accounting
Administration & Office Support
Advertising
Arts and Media
Banking & Financial Services
Call Centre & Customer Service
CEO & General Management
Community Services & Development
Construction
Consulting & Strategy
Design & Architecture
Education & Training
Engineering
Farming & Conservation
Graduate Recruitment
Government & Council
Healthcare & Medical
Hospitality & Tourism
Human Resources & Recruitment
Information & Communications Technology
Insurance & Superannuation
Legal
Manufacturing, Transport & Logistics
Marketing & Sales
Mining, Resources & Energy
Real Estate and Property
Retail
Science & Technology
Sport & Recreation
Trades & Services
Learn how these valuable tools can improve your workplace